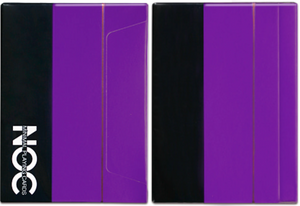 The Blue Crown
NOC V3 Purple Playing Cards Deck by Blue Crown
Regular price
$16.95
$0.00
Unit price
per
Bold, simple, and elegant. Perfect for any application!
Since 2012, simplicity and elegance have defined NOC deck. With each edition, we strive to make it better and better. The design of the NOC v3 deck gets to the heart of the cards themselves and eliminates distractions. The deck has a striking back with a solid bar of color and a thin white border. This puts the emphasis on the work you do with the cards, not on the cards themselves.

Expertly Printed in Taiwan
We have teamed up with the Expert Playing Card Company for this edition, utilizing their incredible Taipei factory and applying the NOC design to a thin yet stiff card stock with a Master finish to ensure exceptional handling for magic tricks and flourishes, as well as incredible durability to withstand even the roughest night with your poker buddies.

Side-Loading Tuck with Reveal
The custom side-loading tuck box matches the minimalism of the cards and carries a useful playing card reveal printed on the inside of the flap. The Ace of Spades and Jokers also carry a minimalistic yet attractive design.

Marking System & Free Video with Purchase
The NOC v3 backs are marked in a subtle yet easy-to-read manner that allows you to know the SUIT (not value) of any card at a glance. When you purchase the NOC deck, you will receive a FREE 20-minute video download starring Alex Pandrea that teaches you how to use the marking system, as well as perform a few amazing magic routines that utilize the features of the deck.

Available in 5 striking colors - Collect them all!
Because of the simple design and vibrant color, the NOC deck is perfect for any application. Whether you're into a weekly poker game, performing magic tricks, flourishing, or collecting, the NOC deck is a perfect option. The NOC v3 deck is available in 5 vibrant colors to match any mood, wardrobe, or style.
---