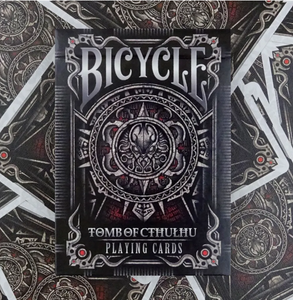 Card-Addiction.com
Bicycle Tomb of Cthulhu Limited Edition Playing Cards Deck
Regular price
$45.00
Sale price
$50.00
Unit price
per
Based on the legendary old god Cthulhu, Tomb of Cthulhu is inspired by the mythos of H.P. Lovecraft. Originally intended to be the first deck in the Mythos series, Tomb of Cthulhu is a perfect match for those who took the journey and got their hands on Mythos: Necronomicon. 

Designed in stone, these fantastic cards are depicted in ancient rubble that has kept the great Cthulhu secret for centuries. Unlock the mystery and awaken the great old one himself by opening the Tomb of Cthulhu. 

Decks Have the following features:
Printed by USPCC

Bicycle branded

100% custom deck

Air-cushion finish

Designed by 4PM Designs

Custom seal

Limited print run of 2500 decks

 
2016 Release.
---